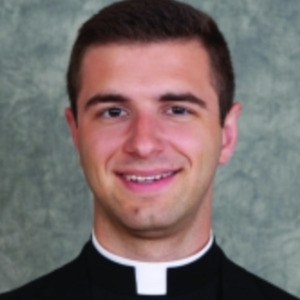 Ryan Quarnstrom
Special guest
Ryan is a seminarian at Kenrick-Glennon Seminary, studying for the Archdiocese of St. Louis. He grew up in Cottleville, Missouri, with his younger brother, Nick, and his loving parents. For grade school, he attended St. Joseph's in Cottleville, so from a very young age, found himself immersed in the life of a vibrant, active parish community. Beginning his fifth grade year, St. Joseph's welcomed the addition of the Dominican Sisters of St. Cecilia in Nashville, a truly incredible witness to a life of joy in Christ. Through the influence of the Dominicans and several young, zealous priests, he started to recognize the beauty of the Church and a life lived for the Lord. As they say in the Song of Songs, "I found Him Whom my soul loves. I took hold of Him and would not let Him go" (Sg 3:4). From St. Joseph's, he went on to De Smet Jesuit High School, from which he graduated in 2015. So by God's grace and the prayers of so many, he found myself preparing to enter a community of men much like himself.
Having begun his seminary formation in the Fall of 2015, he spent three years in Cardinal Glennon College, graduating in 2018. At that time, he began Kenrick School of Theology, anticipating priestly ordination in May of 2023. Since entering seminary, he has spent two summers working in the Vocations Office for the Archdiocese, a summer at the Institute of Priestly Formation in Omaha, Nebraska, and a summer living in Villa de Leyva, Colombia, studying Spanish.
And so now in his fifth year of seminary, it is with great joy that he continues his seminary studies, hoping to offer his gifts to the service of Christ's Church. As the Psalmist says, "He has put into my heart a greater joy than they have from abundance of corn and new wine" (Ps 4:7). That is to say he found in Christ and His Church what the world could not offer him, even at its best. So trusting in the intercession of our Blessed Mother and his patrons, he moves forward hoping and praying that his heart might ever more closely resemble His Sacred Heart. Please know of his prayers for the faithful of the St. Louis Archdiocese.
Ryan Quarnstrom has been a guest on 1 episode.
May 22nd, 2020 | 59 mins 46 secs

catholic, church, evangelization, jesus, parish

Ryan Quarnstrom, seminarian for the Archdiocese of St. Louis, sings for us...and other fun topics.